Massages
Feel the Depth of Healing
All massages include aromatherapy and warm towel therapy
Healing Bliss $70 1hr | $100 90min | $130 2hr
A unique, eclectic style with intuitive touch and harmonious flow for true healing, soothing tranquility and relaxation improving circulation, flexibility, and relief of muscle tension; as well as therapeutic styles to alleviate chronic problems of tension and pain caused by deep scar tissue that benefits from your superficial layer to the deepest muscles, tendons and fascia.
Kneading Comfort $105 90min | $135 2hr
Warm towel kneading compression on each section of the body after a thoroughly relaxing and completely therapeutic massage. Gives a deeply warm and comforting feeling for a serene tension release.
Body and Sole Reflexology $60 1hr | $85 90min
Reflexology is a precisely accurate and effective, and thoroughly serene therapy to specific points on the hands and feet corresponding and affecting your entire body, systems and organs promoting holistic healing and thriving vitality.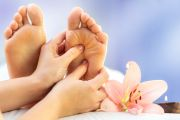 Purifying Lymphatic $60 1hr | $85 90min
Gentle rhythmic movements manually pumps the lymph vessels as it detoxifies; stimulates immune system, digestion, fluid circulation, parasympathetic nervous system; alleviates adipose, cellulite tissue, inflammation, chronic depression and fatigue; has an anti-aging effect while firming the skin. Purification is most effective when used simultaneously with a healthy diet and regular treatments.
Maternal Nurturing $60 1hr
With special prenatal equipment, this massage is designed to meet the special needs of the mother-to-be to relax, decrease swelling, and relieve aches and pains due to weight of baby; increases endorphins and circulation for healthy baby and mother.
Warm Stone Soother $120 90min | $150 2hr
Smooth warm basalt stones are used to effortlessly melt away stiffness and soreness to restore energy to achy muscles and joints. The stones are used as an extension of the therapist's hand which deeply relaxes and warms the body and soul, and provides a unique experience that is tremendously calming, grounding and centering.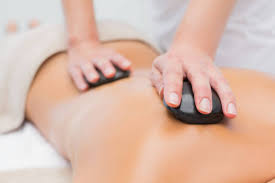 Salt of the Earth $120 90min | $150 2hr
A restorative massage with warm Himalayan Salt Stones: are naturally antimicrobial containing 84 essential minerals for healthy skin and balancing your body's pH, electrolytes and energetic ions; increases hydration, prevents muscle cramping, strengthen bones, and aids in proper metabolism functioning; relieving achy body, anxiety, and insomnia giving higher mental alertness -- along with many more health properties.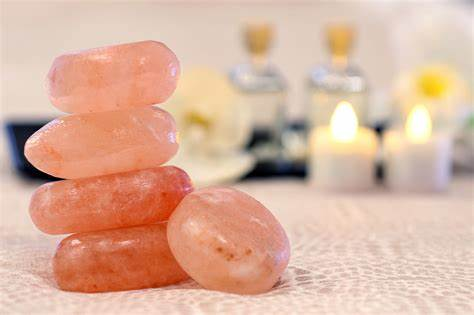 Herbal Therapy $125 90min | $155 2hr
Massage with hot herbal compress and moisture infused with essential oils blends of your choice are specially formulated to detoxify, rejuvenate and revitalize offering several long-lasting health benefits for your entire body as the herbs infuse into skin: induces a deep soothing relaxation, relieves stress and fatigue, uplifts and boosts both emotional and physical well-being, assists alignment and postural integrity of the body, improves circulation of blood and lymph and stimulates the internal organs. Herbal compress is a gift for you to take home.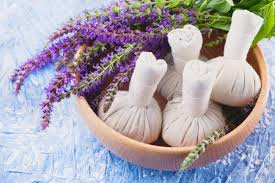 Warm Oil Cocoon $120 90min | $150 2hr
A Wrap, starting with gentle exfoliation for firm, healthy glowing skin also helps the lymphatic system to flow which assists in purifying the body of toxins for revitalizing immunity and rejuvenating healing, as well as minimizes appearance of cellulite. Then relaxing into a flowing massage for circulation and tension release with anti-aging Argon and Coconut oil infused with your choice of essential oil adding many more benefits for your specific needs (see Essential Oils list and pre-select). The peaceful massage continues on head and face while you are wrapped in a warmly comforting cocoon, the curative oils absorb into your skin transforming you to a soft vibrant glow.
Add-ons
Essential Oil Infusion $5
Add any essential oil single note or essential blend to massage cream adding many benefits for your specific needs. (See Essential Oils list and pre-select)
Lymphatic Exfoliation $15
Gentle exfoliation for firm, healthy glowing skin and also helps the lymphatic system to flow which assists in purifying the body of toxins for immunity and accelerated healing, as well as minimizes appearance of cellulite.
Focus Stones $5
Smooth warm stones for therapeutic relief for your particular problem area.

Fascia Scraping $10
Progressive technique which can quickly and effectively loosen muscle tissue and improve range and quality of movement.
Electrical Stim $15
TENS (Transcutaneous Electrical Nerve Stimulation) is a small machine with electrodes that send stimulating pulses along nerve strands and across the skin's surface. These impulses help to reduce pain by encouraging the body to produce more endorphins, which act as a natural painkiller.
Cash, Checks, Debit Cards, Credit Cards, and HSA Cards (Health Savings Account)