Massages
Heavens' Bliss~ A unique, eclectic style with intuitive touch and harmonious flow for true healing, soothing tranquility and relaxation improving circulation, flexibility, and relief of muscle tension; as well as therapeutic styles to alleviate chronic problems of tension and pain caused by deep scar tissue that benefits from your superficial layer to the deepest muscles, tendons and fascia.
$70 1hr | $100 90min | $130 2hr
Insurance Billing~ Upon approval, wellness massages and treatment for injuries from Motor Vehicle Accident. Coming soon--Medical Insurance billing for wellness massage!
(Insurance co-pay may apply)
Mommy-To-Be TLC~ With special prenatal equipment, this massage is designed to meet the special needs of the mother-to-be to relax, decrease swelling, and relieve aches and pains due to weight of baby. Increases endorphins and circulation for healthy baby and mommy.
$60 1hr
Body and Sole~ Reflexology is a beneficial therapy to specific points on the hands and feet corresponding and affecting entire body, systems and organs promoting holistic healing and thriving vitality. Effective and thoroughly serene.
$60 1hr | $85 90min
Warm Stone Soother~ Smooth warm stones are used to effortlessly melt away stiffness and soreness to restore energy to achy muscles and joints. The stones are used as an extension of the therapist's hand which deeply relaxes and warms the body and soul, and provides a unique experience many find to be tremendously calming and centering.
$115 90min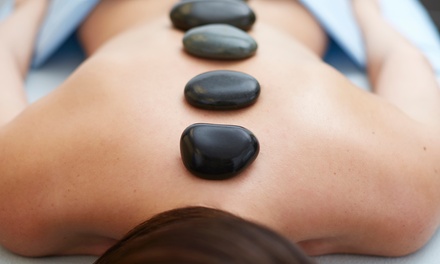 Add-ons
Essential Oil Infusion~ Add any essential oil single note or essential blend to massage cream.
$5
Deep Heat~ Hot towel kneading/compression on each section of the body after massage is administered for a deeply warm and comforting feeling for an invigorating tension release.
15min $15
Lymphatic Exfoliation~ Gentle exfoliation for firm, healthy glowing skin and also helps the lymphatic system to flow which assists in purifying the body of toxins for immunity and accelerated healing, as well as minimizes appearance of cellulite.
15min $15
Focus Stones~ Smooth warm stones for therapeutic relief for your particular problem area.
$5
Fascia Scraping~ Progressive technique which can quickly and effectively loosen muscle tissue and improve range and quality of movement.
$10
Electrical Stim~ TENS (Transcutaneous Electrical Nerve Stimulation) is a small machine with electrodes that send stimulating pulses along nerve strands and across the skin's surface. These impulses help to reduce pain by encouraging the body to produce more endorphins, which act as a natural painkiller.
$15
Specials
Gift Certificates~ Available for any dollar amount or service
New Clients~ 30% off 1st massage
Frequency Card~ Enjoy 7 and the 8th is for free!
Senior and Military Discount~ 10% off
Referral Special~ 30min upgrade for every new referral
All times are actual hands on time.
All massages include aromatherapy
and warm towel cleanse therapy